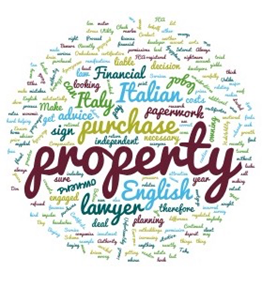 At What Stage of the Buying Process Should You Contact a Property Lawyer in Italy?
People planning to buy an Italian property frequently ask me at what point of the buying process they should involve a lawyer.
On the one hand, people worry that if they contact a lawyer too soon, they will end up wasting their time or incur unnecessary additional costs when they might not actually proceed with a property purchase immediately.
On the other hand, people fear that if they don't contact a lawyer soon enough, they may find themselves in an estate agent's office faced with a contract and a request to pay a deposit, committing themselves and their money, without appropriate, independent legal help.
Most experienced property lawyers in Italy appreciate that you will not necessarily find your ideal property on that trip or need their help immediately. A reputable lawyer will recognise that is helpful to have some initial guidance and their details at hand just in case you do.
If you get in touch with an English-speaking Italian property lawyer in advance of your trip, they can provide you with an outline of the buying process and provide you with details of their legal fees should you wish to instruct them to progress a property purchase for you.
The lawyer will also be able to confirm other costs associated with a property purchase so you can factor these additional costs into your budget before you negotiate a purchase price with the vendor or estate agent.
Getting in touch with a lawyer early will also give you the opportunity to speak to them on the phone or to meet in person during your trip. This way you can make your decision as to whether they are the right lawyer for you, prior to deciding to instruct them.
Once you have had contact with a lawyer you can confidently move forward with your property purchase, whether on this trip or a future property viewing trip. You will know that you have someone at hand from the very beginning to assist you with all aspects of your property purchase in Italy.
If you are looking to buy a property in Italy, I would be more than happy to help you. For a free, no obligation consultation, please get in touch.
4
Conveyancing in Italy, Italian Attorney, Italian Lawyer, Italian Notary Public, Italian property, Italian Property Attorney, Italian Property Law, Italian Property Lawyer, Italian Property Legal Assistance, Italian Property Solicitor, Italian Solicitor, Law Firms in Italy, Notaio, Notary, Notary Public, Off-Plan, Off-plan Property