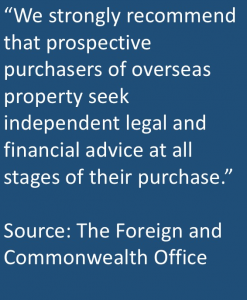 Buying properties in Italy is a major decision. Proceed with caution. Do your research. Always get independent advice.
Continued slow economic growth in Italy is helping to keep property prices low and therefore attractive for those looking to invest. Interest rates show no sign of substantially increasing in 2016 either in The UK or in the Eurozone. 2016 is therefore looking to be another year when many Britons will purchase an Italian property.
Each year, I am engaged by clients whose Italian property purchase started out as an impulse decision, driven more by emotional than rational considerations. Unfortunately, at some point during the purchase, the dream has turned in to a nightmare. All sorts of additional costs are incurred; costs which could have been completely avoided if legal advice had been sought prior to purchase.
At the very least, mistakes made during the purchase process can cause legal headaches, uncertainty and stress – the last thing anybody buying a home would choose. Recently, I was engaged to resolve a case where a property had been purchased without a Certificate of Habitability. The new owners didn't realise that such certification was necessary until they tried to get water and electricity supplied to the property. Utility companies refused to hook up the property because the owners didn't have the relevant paperwork.
The ramifications can be serious. Take for example, a client who didn't have a survey and now finds his roof collapsing, or the owners of a property that lacks planning permission for some of the outbuildings on their recently acquired land.
And if you are making a Buy to Let purchase, getting it right from the outset can mean the difference between owning a property that yields a return on your investment or owning a property that will drain your finances for years to come.
Unlike the UK, property purchases in Italy are not regulated by any authority such as the Financial Conduct Authority (FCA). You will not be protected by the Financial Ombudsman Service or Financial Services Compensation Scheme if things go wrong, even if you use an FCA-registered financial adviser or mortgage broker in the UK to make the deal on your behalf.
Beware of developers and the hard sell. Don't succumb to pressure to sign anything. You may find yourself liable to pay fees or a deposit before you've had a chance to think carefully. Check all the paperwork. Make sure that the titles are correct, that you have all the necessary permissions, licences, certificates and planning consents. Make sure you account for all the tax you'll be liable to pay, both in the UK and in Italy.
Before you sign any kind of paperwork relating to an Italian property, always seek legal advice from a lawyer who is independent of everyone else involved in the deal – including the vendor, developer or estate agent. Ensure your lawyer is fluent in both English, and Italian, that they understand Italian property law and exactly how the law relates to your situation.
If you need further information on the matter, please contact us.
4
Conveyancing in Italy, Italian Attorney, Italian Lawyer, Italian Notary Public, Italian property, Italian Property Attorney, Italian Property Law, Italian Property Lawyer, Italian Property Legal Assistance, Italian Property Solicitor, Italian Solicitor, Law Firms in Italy, Notaio, Notary, Notary Public, Off-Plan, Off-plan Property