This post is intended as a general guide. For more comprehensive information on Italian conveyancing process, you might like to read our Property Buying Guide. If you are in doubt about any specific issue, please contact me or consult your lawyer.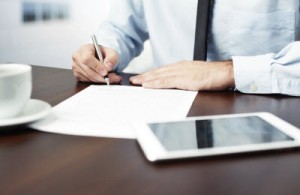 Conveyancing is the legal transfer of property ownership from vendor to buyer. It starts when your formal offer – Proposta in italian, on a property is accepted and finishes once you have signed the deed of sale, Atto di Vendita, at completion.
How long the Italian property purchasing process takes depends on all sorts of things, such as how many buyers and vendors are involved, whether there are legal issues pertaining to ownership or concerns about the location, whether the property is off-plan, partially built; there may be concerns about the condition or planning permission of an existing property. Basically then, the whole process can take weeks or months.
Although it is not a legal requirement in Italy to engage a lawyer when purchasing a property, an experienced property lawyer can guide you through the complexities of Italian conveyancing and related paperwork as well as help resolve any legal issues that come up along the way. And while instructing a lawyer may seem like an additional, and possibly superfluous cost, prevention is always a better, less frustrating and less costly solution than curing legal issues once you own a property in Italy.
How exactly can a lawyer help me with Italian conveyancing?
EXPLAIN
Your lawyer will clarify the Italian property purchasing process for you and help identify what needs to be done in your particular situation. Your lawyer will guide you through the process and provide legal support and advice throughout.
SEARCH
There are things you may not know about the property just from viewing it with an estate agent or the vendor; structural and legal problems, which a lawyer can play a crucial role in identifying before you begin the purchasing process.
In a worst case scenario, a failure to identify issues at this stage could generate consequences under criminal law. Once a property has been purchased, it may be hard to rectify any work which is later deemed illegal. In all likelihood it will be difficult to prove that the vendor was in fact the originator of the work. Legalising such problems can often be very costly and is even impossible sometimes. Illegal works, when discovered, can lead to seizure of the property and a criminal court case. Seeking compensation from the vendors generally implies a litigation in court, which might take years and sometimes could turn out to be pointless if the vendors are unable to pay compensation.
Your lawyer will do a set of legal searches for you and, where applicable your mortgage lender. Some searches such as local authority and title deeds would be done for all properties. Other searches, which I would always recommend, are issues connected with Italian zoning legislation to ensure that a property is legally built, has all the required authorisations and permits.
Environmental factors could be important too – depending on the location of the property. Some regions of Italy are particularly susceptible to ground stability issues, such as landslides and earthquakes. Your lawyer can help you arrange geological and structural surveys. If anything out of the ordinary is found from the searches, your lawyer will be able to advise you what action should be taken.
CONTRACTS
Throughout the Italian conveyancing process, your lawyer will examine and investigate all documents and paperwork before you enter in to any legally-binding agreements. There are three legal steps involved in Italian property purchases: Proposta, Compromesso and Atto di Vendita. Each contract entails handing over a deposit or payment so it is crucial that all property-related legal issues are resolved before you sign any paperwork. Your lawyer will also make sure that completion dates are agreed and arranged.
COMPLETION
In accordance with Italian law, a notary public – an official representative of the Italian State – must oversee the sale. A notary is always present at Italian property completion. Your lawyer will be able to advise you on choosing a notary. Your lawyer will take all steps to complete the purchase, including when necessary, sworn translations of the Atto di Vendita,  help with transferring funds, collecting the new title deeds. Italian law requires that vendor and buyer attend completion. Your lawyer will accompany you. If you are not fluent in Italian but have an English-speaking lawyer, your lawyer will be able to translate for you. If for some reason you are unable to attend completion in person, your lawyer can complete on your behalf through a Power of Attorney.
2
Conveyancing in Italy, Italian Attorney, Italian Lawyer, Italian property, Italian Property Attorney, Italian Property Law, Italian Property Lawyer, Italian Property Legal Assistance, Italian Property Solicitor, Italian Solicitor, Law Firms in Italy