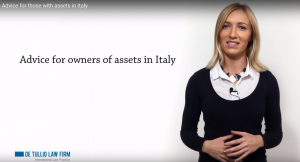 If you, or your family, own Italian assets, it is advisable to research and prepare for the future of those Italian assets. You can watch our short video on this subject here: http://bit.ly/1VDqOnY
Inheritance and probate laws vary from country to country and it is unlikely that the Italian assets will be subject to the same procedures and laws as the assets at home.
In any situation, the succession process following the death of a loved one can become complicated and stressful. When you need to consider assets abroad it can also become frustrating and costly.
In 2015 a new EU regulation came into force. Known as Brussels IV, this regulation facilitates cross border successions. Only three countries have opted out, the UK, Denmark and Ireland. However that doesn't mean that nationals from those countries won't be impacted by the new regulations.
The aim of Brussels IV is to enable a testator with assets abroad to choose which country's law will govern their will and the probate process. A Certificate of Succession will provide proof that the regulation can be enforced in whichever EU country is relevant.
The way assets will be dealt with is likely to depend on the country in which the deceased was formally resident. With or without a will, certain laws and regulations that apply will vary. For example, in Italy a will must be authenticated by a public notary before probate can commence.
Even if a will is present, if it has not also been drafted by the testator into Italian it will need to be translated, at substantial cost and, because the testator is no longer around, this can create issues and misunderstandings during the probate process.
The best method of ensuring your will is respected is to draft separate wills in the countries and languages in which you have assets.
If no will exists, the situation becomes very complicated for the heirs and it is advisable for them to enlist the help of a specialist lawyer in Italy to manage the succession of Italian assets. The national succession process has been described in detail in our inheritance guide.
However, there are certain laws in Italy that are likely to give preferential treatment to any heir residing in Italy. Usucapione, or limitations of action is a civil law in Italy that can give specific ownership rights to a certain heir of heirs, if they have been openly living in or managing a property in Italy. It is likely heirs will be subject to settling existing tax affairs along with typical inheritance tax obligations. With the help of an experienced lawyer, you will be able to navigate the minefield of taxes and avoid excessive costs. It is advisable that you are aware of any potential situations that may arise before you begin the probate process.
Finally, although it is always advisable to settle probate issues out of court, instances can arise which cause friction between heirs. In the case of a dispute, choose a lawyer who speaks your language and specialises in inheritance law, someone who can gather all documentary evidence for your case and will be able to advise you on the most cost effective and expedient way to finalise the affairs. The judicial system in Italy is slow and costly, do not enter into it without a clear way out.
For more detailed information on the topics raised in this article, please visit the inheritance section of our website or feel free to get in touch.
3
inheritance law, Italian Attorney, Italian Inheritance, Italian Inheritance Solicitor, Italian Lawyer, Italian Notary Public, Italian Probate Attorney, Italian Probate Lawyer, Italian Probate Solicitor Italian Solicitor, Italian Succession, italian will, Italian Wills, Notary, Notary Public