Having a holiday home in Italy is a dream for many. However, there are many downsides to consider before taking the plunge. I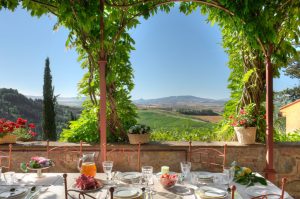 was recently talking to a couple who told me that having a house in Italy means they feel obliged to holiday at the house each year, which over time has become a little boring. In hindsight, they wish they'd rented properties in different parts of the country rather than being tied to the same property in the same place year after year.
If you are considering buying a property in Italy, think long-term. Make sure it's for the right reasons and that you have done your research absolutely thoroughly.

If you think an Italian property is potentially an easy, passive income generator, think again. To be a success, you will need to work hard to create, market and operate an attractive holiday rental business. If you need to borrow money to finance the purchase of your Italian holiday property and you already have a mortgage at home, you'll have two debts to service and in reality, your rental income may not cover repayments for your Italian property.
Remember too, that all the maintenance and running costs will be your responsibility and unless you are living locally, you will probably need a management company – or very understanding local friends – to deal with the property on a day to day basis for you.
We asked some of our clients who own Italian property, what tips they would give to prospective buyers in Italy. Here's a selection of what they said:
"Identify your reasons for buying real estate in Italy…
… for example: are you looking at retirement, relocation, holiday home or a buy-to-let investment? Always use a licensed, unbiased real estate agent who can work with you to achieve your objectives. Don't be pressurised to buy – it took us over five years before we committed to our purchase".
"Ask lots and lots of questions
When choosing a holiday home, the priorities are about personal preferences, choices and taste. We bought our property for investment purposes, which is totally different. When you are buying a property for buy-to-let purposes, you are starting a business so you need a plan. There are so many things to consider: exit strategies, growth forecasts, potential rental incomes, neighbourhood, property taxes, amenities, infrastructure, transport and future developments in the area. This is where it pays to get professional advice and second opinions from good real estate agents, lawyers and financial advisors".
"Get your sums right. What can you afford?
It's not just about the cost of buying a property, you might add renovation or extra fees for shared areas. Not to mention running costs. Investigate and understand the Italian property market. It's totally different to the US property market. When it comes to selling your property later, even if it's a really attractive proposition, you need to understand that it's not likely to get sold fast."
"Bring in the professionals
Seek legal advice. Use your own independent English-speaking solicitor, who has absolutely no links to your seller, estate agent or developer. Do not sign anything prior to your lawyer's review. Do not make any money transfers until they have been checked and signed-off by your lawyer. If anybody uses terms like capital growth or rental yields when viewing a property, be very sceptical. Ask to see evidence. Before deciding whether it's a good buy, factor in all the likely costs, taxes and don't forget maintaining the property, managing the rentals. Think carefully about the pros and cons of different ways of buying the property and check for the best deal on mortgages and currency".
"Viewing the property at different times of the day is important
For example, we viewed a property during afternoon siesta and it seemed perfect… a really attractive property in a quiet location. But, when we revisited the place another day mid-morning, we discovered we could hear the loud rumble of traffic on a nearby main road! Consult a qualified lawyer before making any final decision. Many lawyers will offer a free consultation to discuss your general situation. Ensure you double-check everything with your lawyer and fiscal advisor before making any decisions. The person at the local bar might know a thing or two from experience, but those experiences shouldn't inform your decision-making."
"Research is key
When we were researching properties online, the maps on website listings were not always 100% accurate and showed the nearest village rather than the property itself. This is for safety reasons as houses used as second homes are often empty for long periods of the year and can become targets for burglars. Contact the estate agent and get coordinates for a satellite view of the property and surrounding area. Study it closely. In many parts of Tuscany, for example, it's difficult to find a country house within walking distance of a village. It means that you, or your rental guests, will have to drive to the nearest shops, bars and restaurants."
"Get to know the rules and regulations regarding Italian tax procedures…
…so that you know what you are in for.  Remember that when purchasing property in Italy, you need to take into account agents' commission, notary fees, and registration fees as well as future costs. If you are planning to live in Italy, find out about the residency rules. Have your financing in place and get a good international residential conveyancing lawyer."
"Always negotiate on the price…
… use a reputable real estate agency. Never part with any money unless you have the express approval of your lawyer. If, like us, you are buying off plan or during construction, getting independent legal advice is even more important. Your lawyer will make sure that all the necessary contractual, bank guarantees and insurances are in place to protect you if something goes wrong like the completion of building does not occur on time."
"Find yourself a good lawyer to represent you in the purchase –
– if possible agree the fees up front. Find a reputable estate agent to assist. But don't rely on the agency to put together contracts and handle the conveyancing. Make sure they speak your language. Make sure that they fully understand your requirements and that they don't waste time showing you properties or areas that don't match your brief. Ensure that you fully understand all the costs, taxes and fees involved with the purchase. It can impact hugely on your budget. Always instruct a surveyor to carry out a survey to ensure that there are no structural, planning, zoning or geological issues with the property. Take your time. Don't rush into the first deal presented to you. If it sounds too good to be true, it probably is. Take a step back and get a second opinion."
"Start by asking yourself how easy it will be to sell the property should you need to?
If you are looking at capital growth, this will only actually materialise when you sell, until then it's just theoretical paper profit. If you are looking at the property as an investment, think about the property. Why would people want to rent it? Why would people want to buy it from you? The reasons will tell you whether the property is likely to be a good investment."
If you need any help, or an independent second opinion, we are here to help!
6
Conveyancing in Italy, Italian Attorney, Italian Lawyer, Italian property, Italian Property Attorney, Italian Property Law, Italian Property Lawyer, Italian Property Legal Assistance, Italian Property Solicitor, Italian Solicitor, Law Firms in Italy, Off-Plan, Off-plan Property