Generally speaking, Italy recognises the validity of international Wills.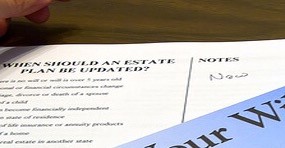 However, it is advisable for foreign nationals with assets in Italy to draft an Italian Will.
The main advantages to having an Italian Will are:
-minimising misunderstandings and / or conflicts amongst heirs
-facilitating legislative, linguistic and jurisdictional matters with the Italian authorities
-reducing inheritance tax on properties and assets
-simplifying the inheritance procedure
Who should I turn to for an Italian Will?
If a foreign national decides to dispose of Italian assets by means of an Italian Will, an Italian attorney, will be able to advise on all aspects of Italian Inheritance Law.  It is a good idea to engage the services of an Italian attorney familiar with both the Italian and the testator's national jurisdictions.
Italian inheritance law stipulates that a certain portion of the testator's assets must be inherited by immediate family members. This is known as, "Forced Heirship". Forced heirs are the decedent's spouse and/or children, or other parties to whom a testator cannot legally deny a portion of the assets.
It is important to follow the complex Italian inheritance procedure accurately. Engaging the services of a competent and experienced Italian Lawyer is therefore highly advisable.
It is also important to remember that to be entitled to draft an Italian Will, the testator should be at least 18 years old, of sound mind and the legal owner of the assets referred to in the Will.
Denuncia di Successione
Following the death of a testator, the Italian Will must be published with the assistance of an Italian notary. Once published, a testator's heirs or executors can proceed with Italian Probate, Denuncia di Successione in Italian.
Probate must take place within 12 months of a testator's death. This procedure requires making a declaration of all relevant assets to the Ministry of Finance, and liaising with the tax authority –  Agenzia delle Entrate. The relevant tax office is determined by where a testator was resident at the time of death.
A specialised Italian inheritance attorney can manage or assist throughout the inheritance procedure and can also finalise the procedure by registering the new owners of inherited assets in the Land Registry, Voltura in Italian.
It is also important to bear in mind that inheritance tax will need to be paid. Tax rates are calculated based on heirs' relationship to the testator and the value of inherited assets.
1
inheritance law, Italian Attorney, Italian Inheritance, Italian Inheritance Solicitor, Italian Inheritance Tax, Italian Lawyer, Italian Notary Public, Italian Probate Attorney, Italian Probate Lawyer, Italian Probate Solicitor, Italian Solicitor, Italian Succession, italian will, Notary, Notary Public