In recent years, the Italian government has taken steps to simplify the often cumbersome paperwork necessary for renovation and building work. As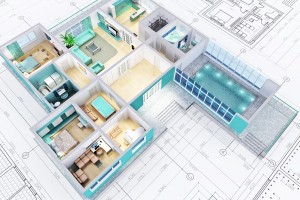 part of these efforts, new legislation was introduced in 2014. Measures included a Notice of Commencement of Work – Dichiarazione Inizio Attività (DIA), which allows home owners in Italy to carry out certain work on their property without resorting to applying for planning and building permits.
There have been a number of Regional changes to the law since 2014 but essentially, any building work involving removal or moving internal dividing walls, thereby creating a different layout of internal space, no longer require planning or building permits. So long as changes do not constitute a substantial change in use or increase in the size of a property, a DIA is sufficient.
A court case in Lazio involved a man, John Mills (not the plaintiff's real name), who had long wanted to modernise the apartment he owns in Rome. His plans included removing a couple of walls in the apartment to create an open-plan kitchen and living space. Having found a builder to do the work, John filed a DIA with the Comune. From a legal point of view, if a Comune fails to respond to a DIA within 30 days of a home owner filing it, work can begin.
Six weeks after filing the DIA, not having heard anything from the Comune, John and his builder carried out the work. One morning, a couple of weeks after the renovation work was finished, the Municipal Police visited John's apartment to inspect the apartment. The police alleged that John Mill's renovations had been carried out illegally; that he had not obtained the requisite planning and building permits.
A few weeks later, John received an order from the Comune to return the apartment to its original state. Understandably, John was very upset. He sought legal advice and decided to take the Comune to court.
The Regional Administrative Court in Lazio ruled in favour of John Mills, (Tar Lazio, sez. I quater, 17 October 2015 n. 11831) on the grounds that he had filed a DIA, heard nothing back from the Comune, which constituted tacit approval of the proposed work. And while his demolition and renovation work changed the floor-plan and layout of internal spaces, the work neither substantially changed the use of the space nor increased the overall size of his apartment. Thus, the court ruled that the work did not require building permission.
A DIA form and local regulations regarding planning, building, health and safety can be obtained from your Comune – some have even put the form and regulations online for convenience. If you would like more details or you are unsure what sort of permits you need for your building, modernisation or renovation work, I'd be happy to help. Please contact me.
4