Following the recent introduction of civil unions into Italian national law our thoughts turn to the parental rights of married and particularly unmarried couples in Italy.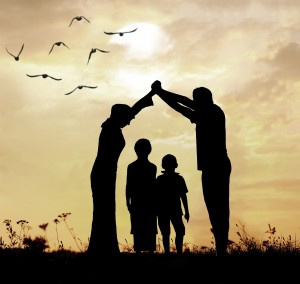 Italian politician, Monica Cirinnà has told us that the rights of those in a civil union will be much the same as those of married couples.
This of course cannot be so straightforward when it comes to children, and we still await clarity on the case for adoption between civil partners. As it stands, adoption for same sex couples is still off the cards.
For those living in or moving to Italy it is important to understand parental rights. That way, as a married or unmarried couple with children you can be in the best position to make decisions or provisions for the future.
In all EU countries, a mother automatically has parental responsibility for her child, as does a married father.  All EU countries recognise that children have the right to a personal relationship and direct contact with both parents, even if the parents live in different countries.
In cases of divorce or separation, it is important to determine whether the children will live with one parent exclusively or with both alternately.
If you cannot reach agreement, you will probably go to a court, which will decide – in the best interests of the child – on your custody rights, and in particular determine the child's place of residence.
In situations involving more than one country (for example if the parents do not live in the same country) the courts responsible for handling cases of parental responsibility are those in the country where the child usually lives. Subject to certain conditions, you can agree with your spouse that the court ruling on your divorce can also rule on parental responsibility matters connected to your divorce.
Where the child has more than one nationality, the law of the country with which the child has the closest link applies. Under section 19 of of Act No 1995/218, if the child has more than one nationality and one nationality is Italian, Italian nationality takes precedence. It is the nationality of the child at the point the case goes to court that is important.
There are three types of child custody in Italy
Exclusive custody – the child is placed in sole custody of just one parent, to make all parental decisions. The other parent has limited responsibilities.
Joint custody – gives both parents equal parental responsibilities and custody, although in the interests of the child they are likely to live predominately with one parent. In theory this approach is the best for a child as they have both parents.
Alternating custody – means both parents can exercise their parental responsibilities within the predetermined custodial time periods given. (This form of custody is rare and potentially soon to be removed as an option).
 Cases where the judge grants exclusive custody to one of the parents has become rare in Italy, and it requires proof that it would be in the best interests of the child.  However, even in cases of sole custody, the non-custodian parent must still be consulted and involved in major decisions relating to the child. Moreover, in cases where joint custody is applied between disputing parents, the same visiting arrangements and timetable is likely to be set up by the court as is done in exclusive custody cases, giving the parent that does not reside with the child or children limited rights of visitation.
In the case of married parents, the couple will have to have filed for divorce and have been legally separated for six months and will need to go to court regarding both their divorce settlement and future arrangements for their child or children. Following divorce, the child will be placed under the agreed care arrangements settled in court.
In the case of unmarried couples, or estranged married couples, there is no requirement to go to court and parents can simply agree between themselves on parental responsibilities and living arrangements. However, Italian legal professionals strongly recommend seeking legal advice to ensure these agreements are formalised and recorded. Within the EU, a married father will have the same rights as the mother, but an unmarried father's rights and parental responsibility would be decided by the court in the child's country of habitual residence.
Although in theory both parents from a previously unmarried couple have equal rights of parental responsibility for their child or children, in practice where there is no legitimate reason otherwise, the mother's home is more likely to be awarded as the main habitual residence of the child. This is because within the EU, each country has their own specific laws within the framework of family law. Each case will be referred to the local court.
On the subject of same-sex couples, a 2013 Italian Supreme Court decision (601) granted sole custody of a child from an earlier marriage to a lesbian mother living with another woman. The court declared that, "there is no scientific certainty proving that a minor cannot grow up in a balanced way with a same sex couple". This case is in stark contrast to the removal of adoption rights within the civil unions bill. However, it does show that there is progress in appreciating that what is best for a child can sometimes go against traditional or religious norms.
Regarding adoption in general, the Italian law has always stipulated that a couple must be married in order to adopt a child. We are waiting to see if changes will be introduced to adoption rules perhaps by giving same sex couples the option to marry – something that has been possible for over two years in the UK. Or, as has been possible in the UK since 2005, will the Italian government introduce changes to adoption rules to allow unmarried couples to adopt? One thing we can be sure of is that both of these options will cause heated debate and be opposed by some.
From an inheritance point of view, no distinction is made between legitimate, natural and adopted children – all have equal rights.
3
Italian Attorney, Italian Divorce Law, Italian Lawyer, Italian Notary Public, Italian Solicitor, Notary, Notary Public