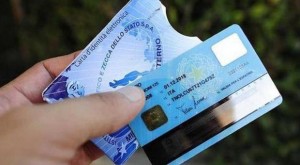 How many of us have slightly torn, crumpled Italian ID Cards in our wallets? However, the days of the flimsy paper Italian ID Card are numbered.
Municipalities in Rome have started introducing new Italian Electronic Identity Cards (Carta di identità elettronica – CIE).
From November 2016, all citizens and residents in Rome, who apply for a new Italian ID card or renew their identity cards will be issued with a plastic card. These new cards will replace existing paper ID cards.
The new cards, with photo ID, are the same size as a credit card or driving licence. They will contain a microchip to protect the owner's data.
The CIE is multifunctional: designed to enable network authentication as well as access to the Public System of Digital Identity (SPID). Through the SPID, those with the new CIE can access online services provided by public administrations. In addition, the new card aims to simplify use abroad as a means of identification. Thanks to the microchip, the CIE has the same features as an "e-passport".
The cost of a CIE is €22.21 (€16.79 plus fees of €5.42). The cost includes home delivery of the CIE, which will no longer be delivered over the counter. Instead, the card will be delivered within 6 days to the owner's address. Alternatively, an owner may request that the card is delivered to their local town hall, where the card can be collected.
The new CIE issuance system itself aims to simplify workflow and reduce queues: applicants will no longer have to wait in line to buy the application forms and then queue at counters to get the card issued, as has been the case until now. Applicants will go directly to issuance counters where they will pay for the CIE fee, but they will not have to fill in any forms.
Further streamlining is expected following a pilot phase. Applicants should be able to pay for the card online when booking an appointment to obtain a CIE.
The plan is for the new CIE to be rolled out to other municipalities throughout Italy. The project is being coordinated by the Ministry of Public Administration and Simplification.
If you need help with obtaining an ID Card or Italian residence, please get in touch.
2