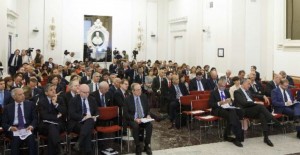 On June 8th, in my capacity as Puglia Local Representative, I participated at a conference called, Italy is Back: Investment climate 2016, organised by The American Chamber of Commerce in Italy. Participants included Pier Carlo Padoan (Minister of Economy and Finance), John R. Phillips (Ambassador of the United States in Italy), Sandro De Poli (General Electric), Eugenio Sidoli (Philip Morris), Giorgio Squinzi (Mapei), Paul Squires (Adler Group).
At the conference, we discussed the results of a Policy Paper produced by The American Chamber of Commerce, in collaboration with EY and Legance, which analyses Italy's position in the global context in regard to the attraction of direct foreign investments especially after the recent reforms of the Italian Government. The paper aims to contribute to the debate on how to improve the business climate in Italy from the point of view of US companies, which are the main investors in the Italian market.
Conclusions include that in a historical period marked by almost daily uncertainty over what the future economy and geopolitical scenario will be, Italy is experiencing a phase of recovery and positive discontinuity. There are many issues on the agenda and in the forecasts of economists and various international institutions: from the scenario after the US elections, to the future ECB monetary policy, to the actual solidity of the European Union, which is being sorely tested by the management of migration influxes on the one hand, and the Brexit on the other. All this as the Middle East is in the grip of strong instability, and amid the terrorist threat and the Chinese slowdown after years of two-digit growth, which is the harbinger of a more general slowdown in emerging countries.
Italy is trying to implement some measures aimed at modernising the state structure and at making it easier for foreign industrial or financial investors to "do business," with effects that in some cases can already be seen – as in the case of the Jobs Act or justice reform – and in other cases cannot be assessed yet, and for which it will be necessary to wait. What is certain is that globalisation helps our industry's tendency toward export, in particular with regard to mechanical and manufacturing industry, though our industry is still failing to make the most of the opportunities offered by the digital economy in order to access new markets.
Foreign investments are increasing: we have seen how large groups, in many cases American ones, have decided to invest in Italy with greenfield operations, or via purchases, as some Italian investors have understood the importance of doing the same, taking well-structured and farsighted internationalisation paths that are not limited to a mere trading presence, but are also focused on opening branches or production centres. Naturally, the road is still long, and the TTIP agreement can help these processes by leading more US investors to consider Italy.
Trying to look a bit beyond, we believe that it is of the essence to explore and underscore how Italy can become more competitive, and consequently more desirable, by focusing on an environment that is capable of encouraging innovation and new businesses. We are referring, for example to an active, flexible, and effective cooperation between the world of academia and the business world, which are still too far apart. What role can universities and research centres play? What is the best blueprint for creating a virtuous circle with business? Also, in what way can new businesses based on state-of-the-art ideas and technology become an attractive factor for investors? Italy has always provided fertile ground for creating companies, more or less innovative ones, and presents several interesting cases for investors with regard to start-ups, but in particular to the so-called "scale-ups," that is, companies that have been operational for some time and with turnovers that are starting to get interesting.
An interesting question is about the ties with the large corporations, and how they can play a development role by investing in innovation, with a natural return consisting in the acquiring of skills and services that were previously lacking in their offering.
These are some of the issues we wish to provide an answer to by establishing a dedicated Monitoring Centre, which American Chamber of Commerce in Italy and EY will develop over the coming months. We will also investigate the big topic of the sharing economy, the impact it has, and how it will increasingly influence business models, in particular via asset sharing.
3