How to change name on house deed
There are a number of events, other than purchase-sale deeds, that might require the change of name on house deeds, sometimes, even without transferring the property to third subjects (e.g., spouses who change their marital status; people who change their name at the registry office for various reasons, etc.). In this article we will talk about some of the most common situations that require a change of name on notarial deeds in Italy. For more information, please get in touch with us.
How to change name on house deed after marriage (or after divorce)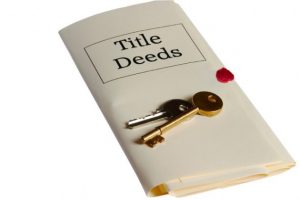 The most common scenario that requires you to update your personal data on property records is a change to your marital status through a marriage or a divorce, when in your home country it is provided that ex-spouses change their family name in their documents after these events.
One of the most frequently asked questions, in these cases, is "Do I have to change the name on property records too after my marriage/divorce". Generally speaking, in order to avoid issues, delays and any issues at a later stage, it is advisable that property records always match current personal information of the owners and it is therefore advisable to update records as soon as possible after the event that affected your name amendment.
However, it is quite common that owners ask for the update and amendment of the information on property records only when the property needs to be sold or transferred for other reasons. In this case the update is mandatory, in order to have the information on the records matching the owners' ID and Italian Tax Code, i.e. the documents through which the notary shall verify the identity of the parties and be sure that the person selling the property is the same person who actually owns it. In any case, be careful when it comes to updating your Italian Tax Code after changing your name: you have to be sure to declare in your application that you have already been assigned a new Italian Tax Code (i.e., the one referred to your previous name). If you do not declare your previous Italian Tax Code, the Tax Office will consider you as a completely new tax subject, with major issues when it comes to selling or transferring the property.
How to change your name on a mortgage deed
As mentioned above, it is common that people update property records only when it comes to selling or transferring the property itself.
However, when a bank is involved, e.g., if you have a mortgage on the property, you will likely be required to update your data prior to a property transfer occurring, since banks need to keep their registers constantly updated, with periodical checks of the client's personal data, in applying anti-money laundering regulations. Also, it is in interest of the banks not to have any kind of issue in the event of possible debt collection, thus they are very scrupulous in having all the information updated.
Depending on bank policies and terms of your mortgage deed, in order to change your name on a mortgage deed you might just have to update property records through a simple application, or go through the process of drawing up a notarial deed in order to formally update the previous mortgage deed.
If you need help to review your case circumstances, please do not hesitate to get in touch.
How to change name on property title deed
In the above scenarios, we mainly took into consideration some of the possible circumstances that requires changing a name on records, referring to the same person, i.e. without transferring the ownership right to a third party. As mentioned at the beginning of this article, there are cases when the property is put in someone's name, without a purchase-sale deed, e.g. a gift, inheritance succession, life interest (usufrutto) termination, etc.
What is the correct way to put the property into someone else's name on a property title deed?
Generally speaking you need a notarial deed to successfully update and change the name on title deeds. This is the normal way to proceed. Where a valid notarial title deed is lacking, the Property Registry Clerk will refuse to put someone else's name on the property (on the basis of a simple private deed, for example).
However, in Italy we have two kinds of property registers, one mainly used for tax purposes (Catasto) the other one to track and register the title history and mortgage records (Conservatoria). In order to update the information in the Conservatoria register, you always need a notarial deed or a court deed. For the Catasto Register, there are some cases where a notarial or other formal deed is not required (e.g., usufrutto termination, inheritance declaration). Please bear in mind that when it comes to property transfer and correctly changing name on title deeds (i.e., transfer the ownership rights), it is important that both Registers have matching information, thus, likely, you will need a notarial deed prior to proceeding with a change of the name on records.
Can you put anyone's name on a deed?
Finally, a few words on a question we are frequently asked: can you put anyone's name on a deed? The answer is "yes, but…"!
Yes, you can put anyone's name on a deed, but you need a notarial deed. Also you need to declare the reason why you are putting said name on the title deed (e,g.: sale, gift, divorce settlement, shareholder contribution to a company,…). Also, depending on the kind of deed and the person involved, there might be specific restrictions or higher tax duties (e.g., a gift between spouses). Usually notaries provide all the relevant information and warnings in case of restrictions or different tax regime applications. However, if they are not fluent in English there might be some misunderstanding on the applicable regulation. Please get in touch for independent legal advice on any of the topics above. We are here to help.
5