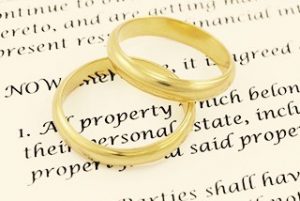 This article deals with the issue of the choice of law ruling the economic relationship between foreign married couples resident in Italy.
Matrimonial regime in Italy, "Regime patrimoniale coniugale" in Italian, is governed by Italian Civil Code. Italian law no. 218 of the 1995 amendment reforming international private law, determines applicable law.
Concerning the economic relationship between married couples, if they have the same nationality, the national law of the two partners will be enforced.
Where spouses have two different citizenships, the law of the State where the marriage took place will be enforced.
Couples married in Italy must choose between two matrimonial regimes: regime of community of property "comunità dei beni" and separation of property "separazione dei beni".
Decisions regarding matrimonial regimes can play a key role in the event of divorce or death and can therefore have important and far-reaching consequences.
Pursuant to article 159 of the Italian Civil Code, in the absence of a written agreement between spouses, the default matrimonial regime will be deemed as that of a community of property.
Assets included in a community of property regime are:
-Purchases made ​​by the spouses together or separately during their marriage
-Businesses opened and managed by both spouses after their marriage
-Profits generated by a business belonging to either spouse
Certain items of personal property are not considered to be part of the Italian community of property regime:
-Goods belonging to each spouse prior to their marriage
-Property acquired during the marriage through a personal gift or inheritance
-Personal items used by spouses
-Goods or finances obtained as compensation for damages
It is important to understand how Italian matrimonial regimes impact the economic relationship regarding the purchase of real estate property in Italy. Under the community of property regime, the general principle is that if a married couple buys a property, it belongs to both spouses in equal parts.
If, however, the couple opts, through a written agreement, that their matrimonial regime should be governed under separation of property, it is possible to register a property in the name of just one spouse.
The choice of the regime of separation of property may be made ​​by a couple prior to, at the time of, or after their marriage. So foreign nationals married elsewhere, but resident in Italy can decide at any time during their marriage to elect to have their economic relationship governed by Italian law.
If foreign married couples resident in Italy do decide to regulate economic affairs according to Italian law, they will have to do it through a written agreement in the form of a public deed in the presence of an Italian public notary.
In summary, there is much to consider when deciding whether or not marriage should be governed by Italian law and which matrimonial regime should be chosen. Each case will be determined by individual circumstances. I would advise that you seek professional advice before taking a decision.
1
Cross-cultural relationship, Divorce Law, EU Provisions, Italian Attorney, Italian Divorce Law, Italian Law, Italian Lawyer, Italian Solicitor, Matrimonial Regimes