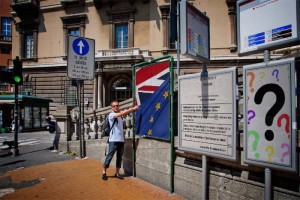 About 26,000 British nationals are registered in Italy, according to Italy's National Institute of Statistics. The British embassy in Rome believes the true number of British residents in Italy is double that.
A significant fear for those concerned about Britain leaving the EU is the potential mass exodus of both Europeans and Britons from each other's respective nations. In 2015, former Attorney General, Dominic Grieve claimed that: "… EU exit would make 2 million Britons abroad illegal immigrants overnight."
However, this claim is not grounded in legal fact, as the Vienna Convention on the Law of Treaties 1969 would come into play. The treaty contains articles that are based on 'acquired rights', which individuals build up over time and hold despite any changes in future treaties enacted by their nation.
Generally speaking, withdrawing from a treaty releases the parties from any future obligations to each other, but does not affect any rights or obligations acquired under it before withdrawal.
Furthermore, there is a precedent; 'acquired rights' were acknowledged in Greenland's withdrawal from the European Economic Community (EEC) following a referendum in 1985, with 53% of Greenlanders voting for withdrawal after a dispute over fishing rights.
Recently, I have been hearing from UK residents in Italy alarmed at the potential impact of a British exit from the European Union. Concerns related to how a Brexit would impact their lives in Italy, property ownership and estate planning. Many are so worried that they are applying for an Italian passport. And, in a recent Guardian website survey, which received more than 1,200 responses from European citizens, a large majority of respondents were in the process of changing nationality or citizenship, or considering doing so. Many felt that without dual nationality, a Brexit vote in the forthcoming referendum could make life as a UK citizen in the EU, far more problematic.
If you are a UK citizen and you are thinking of applying for Italian naturalisation, you must have been resident in Italy for 3 years. The process generally takes six to 12 months and costs at least €200. The Ministero Degli Affari Estero website contains information in English about how to apply for an Italian Passport. Since June, 2015 it has also been possible to apply for Italian citizenship online. If you need any assistance, or help in understanding your personal situation, please contact me.
With a referendum on EU membership scheduled on June 23 this year, UK citizens with the right to vote can make sure they are registered. UK nationals who have been out of the UK for less than 15 years have the right to take part in the referendum as long as they were registered voters in the UK before leaving. People who were too young to vote when they left with their parents may also register to take part if they left the UK less than 15 years ago.
3
Brexit, EU Provisions, inheritance law, Italian Attorney, Italian Inheritance, Italian Inheritance Solicitor, Italian Inheritance Tax, Italian Law, Italian Lawyer, Italian Solicitor, Italian Succession, italian will